Description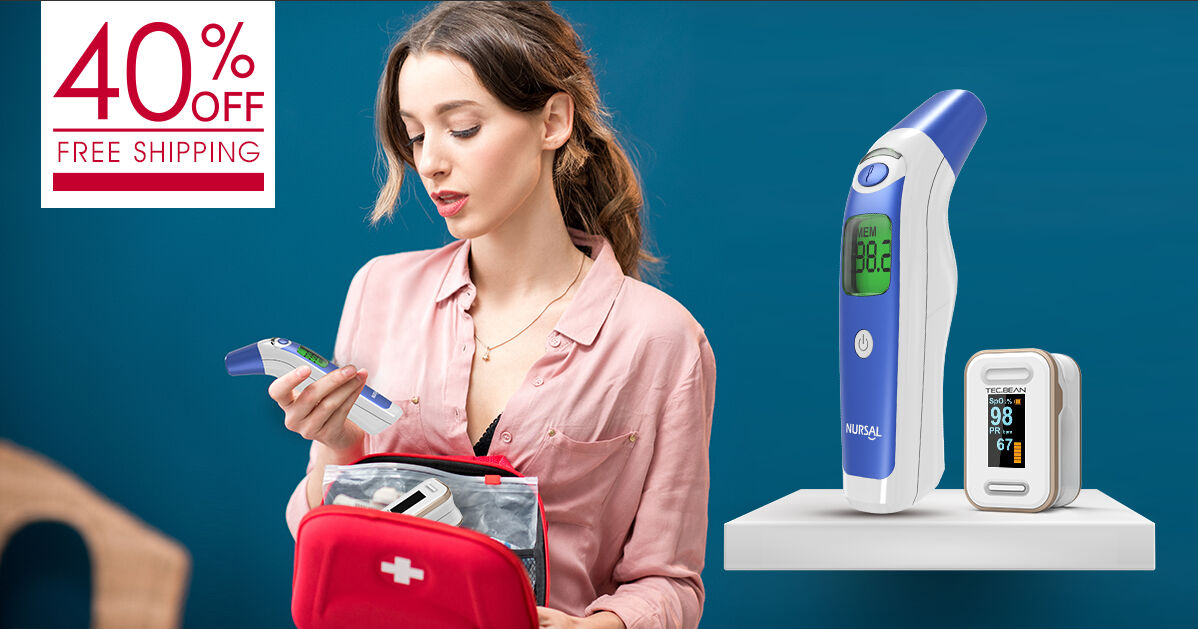 The most common symptoms of COVID-19 are fever, dry cough, and fatigue. A thermometer can help monitor daily body temperature. As the first line of defense for daily monitoring.
But with the continuous mutation of COVID-19, many times people are infected without fever. But some people with the COVID-19 have alarmingly low levels of blood oxygen, and they do not even have a clue that their lives are in danger. They do not appear to have any major trouble breathing, so they do not realize how dire their situation may be.
An inexpensive home device called a pulse oximeter may help detect trouble early.
Buy these two products to give your family more attention.
Save money and get peace of mind.
✅ ACCURACY AND RELIABILITY: Apply the latest infrared scanning technology, high-accuracy sensor probe, and the latest smart chip, NURSAL thermometer is committed to providing professional thermometer at home.

✅ EASY AND CONVENIENT: Just press 1 button, the accurate temperature will be read within 1 second and fever warning. Provided with 2 AAA batteries for you.

✅ 32 MEMORY RECALL & NIGHT READING: Record the last 32 sets of readings, better track, and monitor temperature fluctuations. The large LCD display screen can read clearly even in the dark night.

✅ SUITABLE FOR ALL AGES: It is designed for your entire family, from newborns to adults.

✅ LIFETIME TECHNICAL SUPPORT: FDA approved, recommended by pediatricians. We offer 2 years product warranty. If you have any problems, please contact us. We will try our best to give you a satisfactory answer.
✅ NEWLY UPGRADED & FDA APPROVED - Accurate and reliable in professional tests, measures quickly to show pulse rate and SpO2 blood oxygen saturation of arterial hemoglobin levels.

✅ NEW ALARM FEATURES - Auditory Beeps for every detected pulse; auditory alarm to warn you when your SpO2 and pulse rate are beyond set limits. You can set the limit by yourself.

✅ BRIGHT & COMPACT - Bright double color OLED display shows you the data any time you need. Lightweight, easy to carry & accommodates a wide range of finger sizes.

✅ EASY-TO-USE - The display can be adjusted to face 4 different directions and the 6 display modes show real-time pulse rate, pulse rate bar, and SpO2 level.

✅ ACCURATE AND RELIABLE - Accurately monitors SpO2 and pulse rate while on the move, suitable for mountain climbers, skiers, bikers, aviators, or anyone interested in measuring their SpO2 level.
Why Choose TEC.BEAN Updated Pulse Oximeter?
Accurate and Reliable - FDA and CE Standard:
SpO2 Range: 70% - 99%; Resolution: +/- 1%.
Pulse Rate Range: 30-240 bpm; Resolution: +/- 1 bpm.